I've not been modelling much over the last year due to one thing or another, I'm back at it now and have also sorted my new modeling workshop outside, giving me a lot more room.
This was started in April 2012, but the workshop itself was delivered 6th jan, and the work was completed over 8 weeks
Well the first step to my new modelling digs is starting tomorrow. With the demolition of our tree root damaged garage. This will leave me a nice concrete base ready for a 16' x 8' wooden workshop. This will have a partition inside giving me 4'x8 storage at the front of the house for car stuff, pressure washer bikes etc and a 12x8 modelling room. Being right next to the house it will have power, hot cold water and central heating. It'll also be insulated and ply lined too.

So the first step was done last Wednesday we filled a 12 ton skip with all the rubbish out of it ready for demolition. The garage has not been used for storing a car for years and has just become a dumping ground for household junk, so it's no loss at all. The roof rotted along time ago hence all the rubbish inside.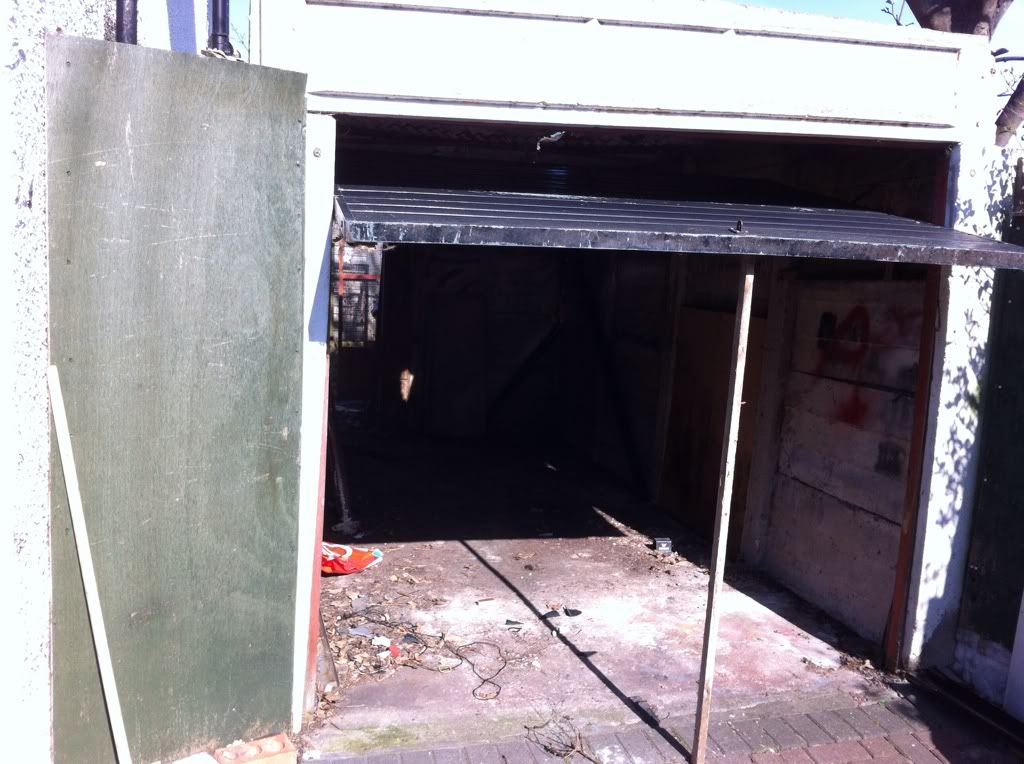 And it's gone
Ok another step closer, all the fencing is now done, this just leaves painting the side of the house replacing the side window, new rainwater drainpipes (all inaccessible when the garage was there) and I'm all set to order my shed.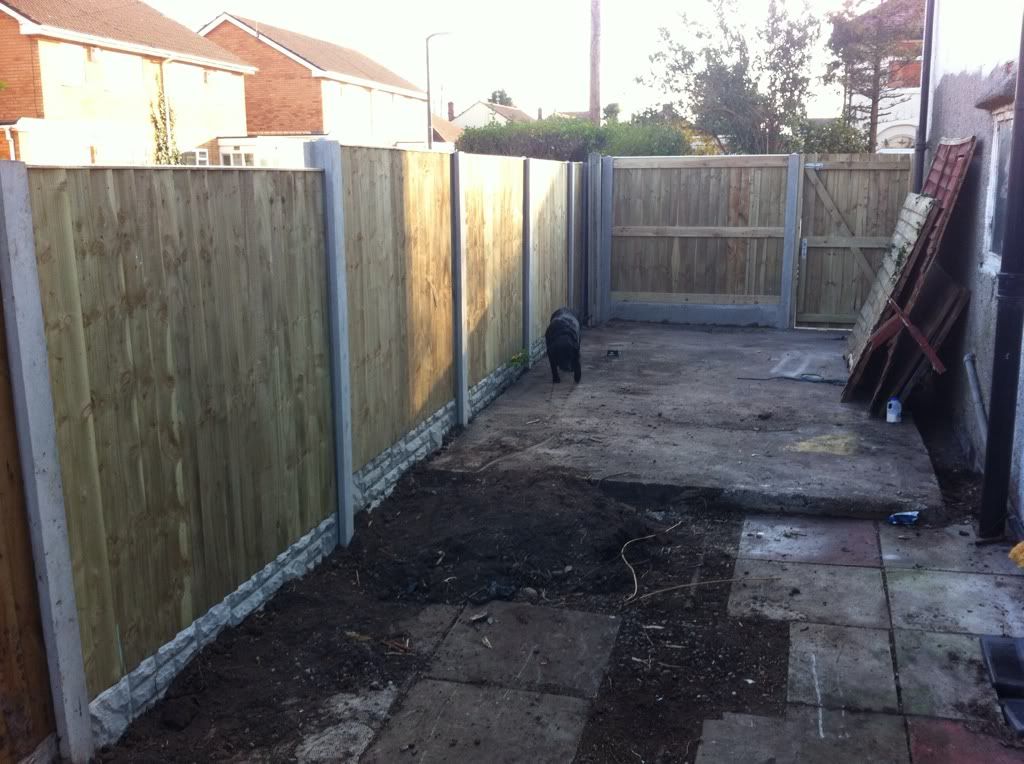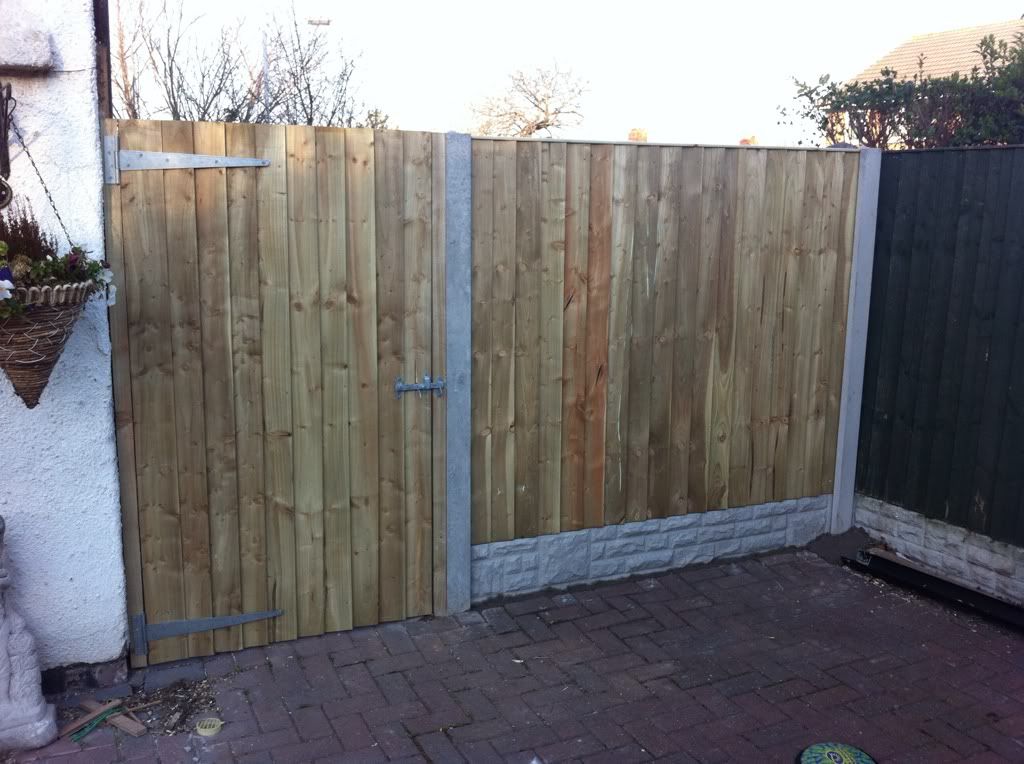 Well at long last it arrived today, very happy with it, it's certainly well made.
All the insulation and boarding is being delivered tomorrow along with the new roofing panels.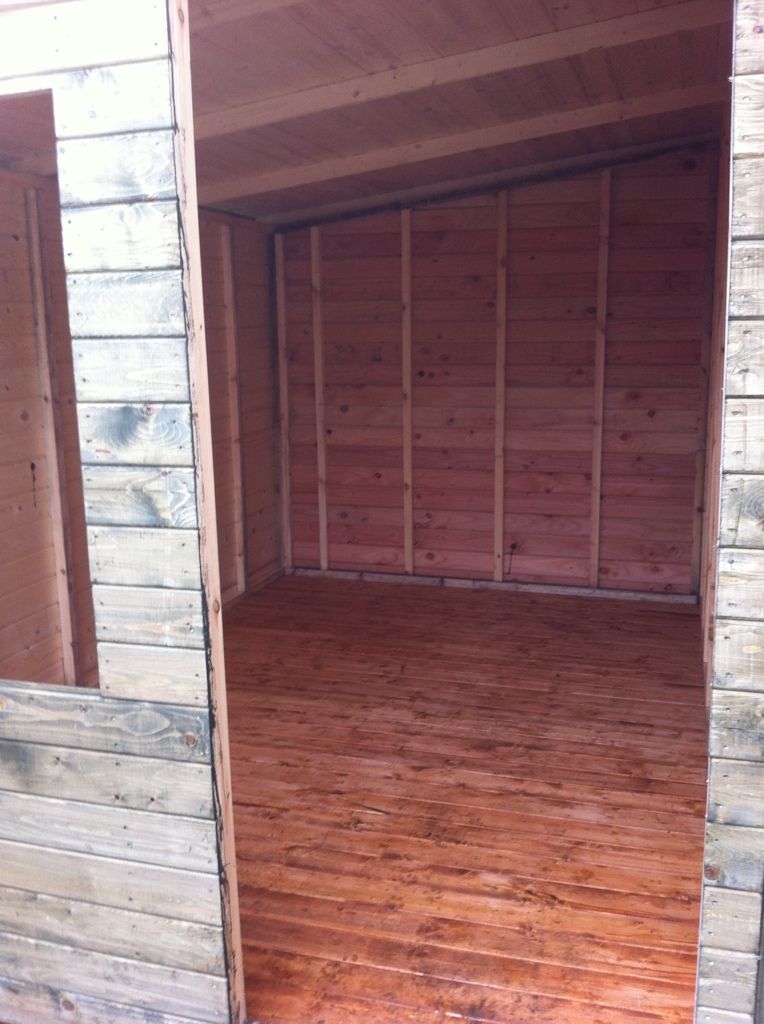 25 mm T &G cladding
My steel security door is also being delivered tomorrow and along with the upvc window will be my first job
Got the door and window in today, need to make good around them tomorrow.
That bloody steel door weighs a ton, I had a right mare getting it fixed in place.
Also slapped,some of the wood preserve in and around the end grains of the t and g boards and where the door and window sit, ill do the rest at a later date.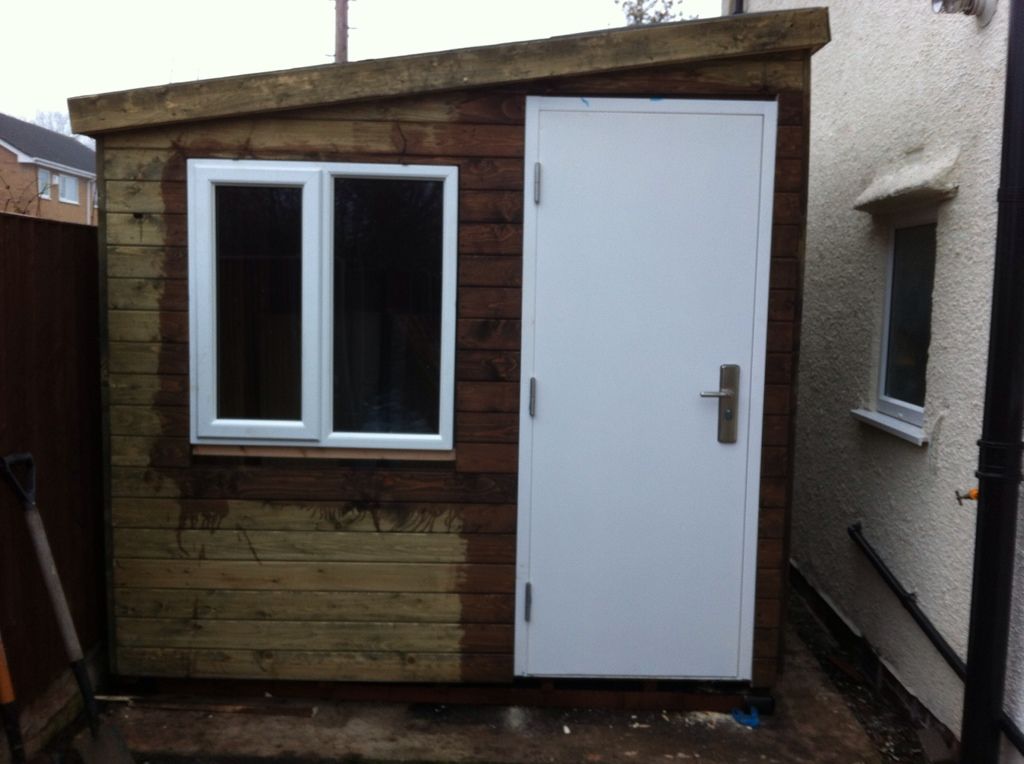 The door is awesome I originally wanted a solid wooden door, but they were £200+ without the door furniture and locks. A quick look on ebay found this steel door for £233 delivered, its 15 point locking with anti jemmi hinges and pins and is also insulated too.
It was easy to install to although a bit heavy to lift in in my own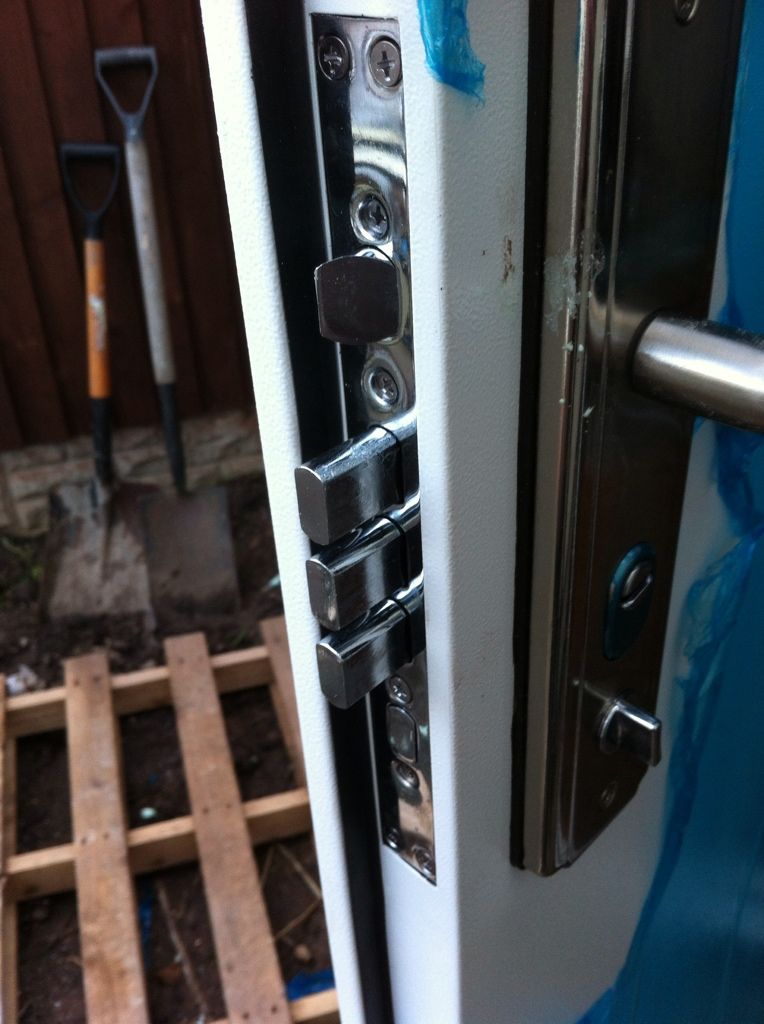 Two of these top and bottom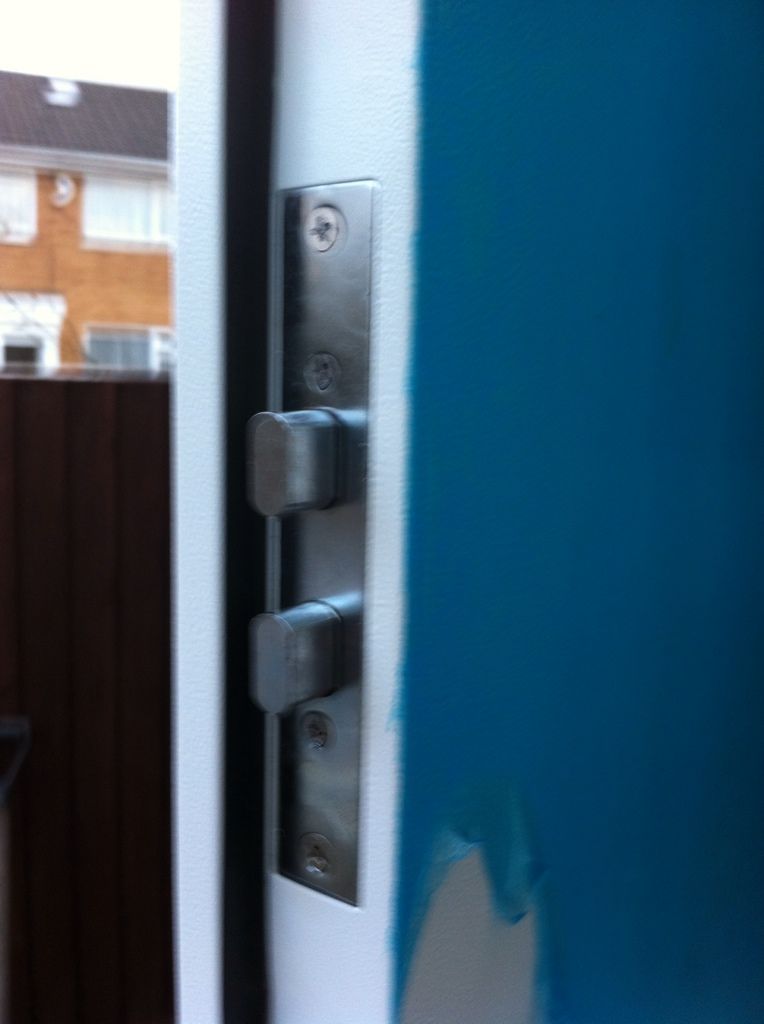 And two on the very top and bottom of the door too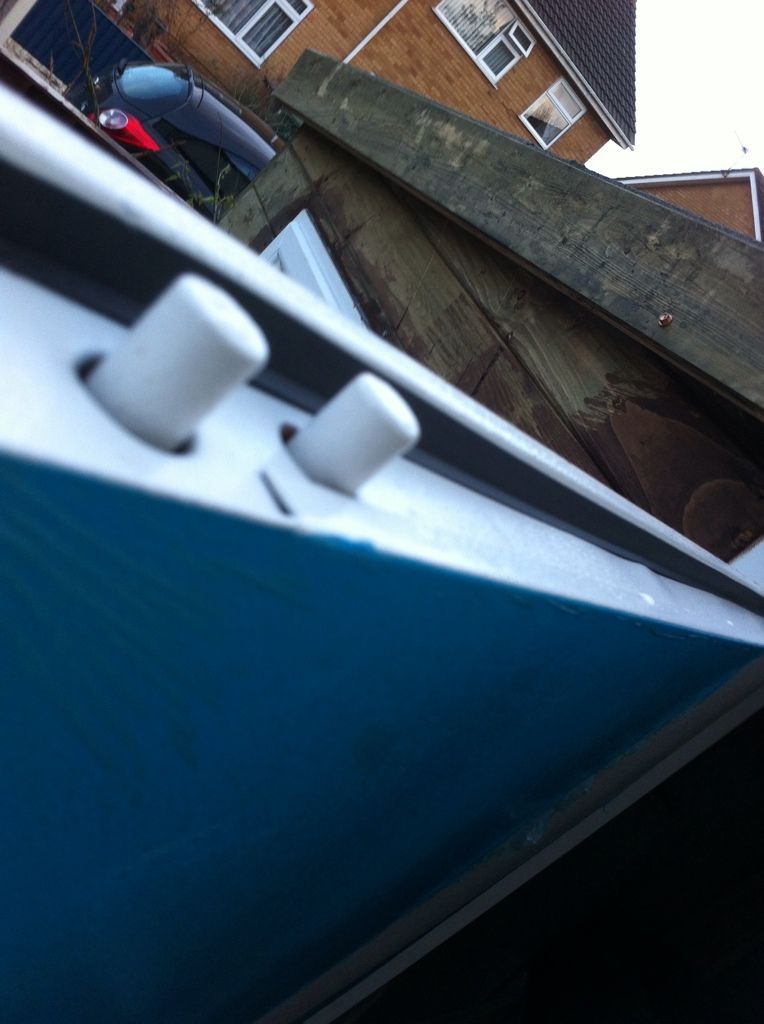 Strong hinges and anti lift legs, still need to get the blue film off inside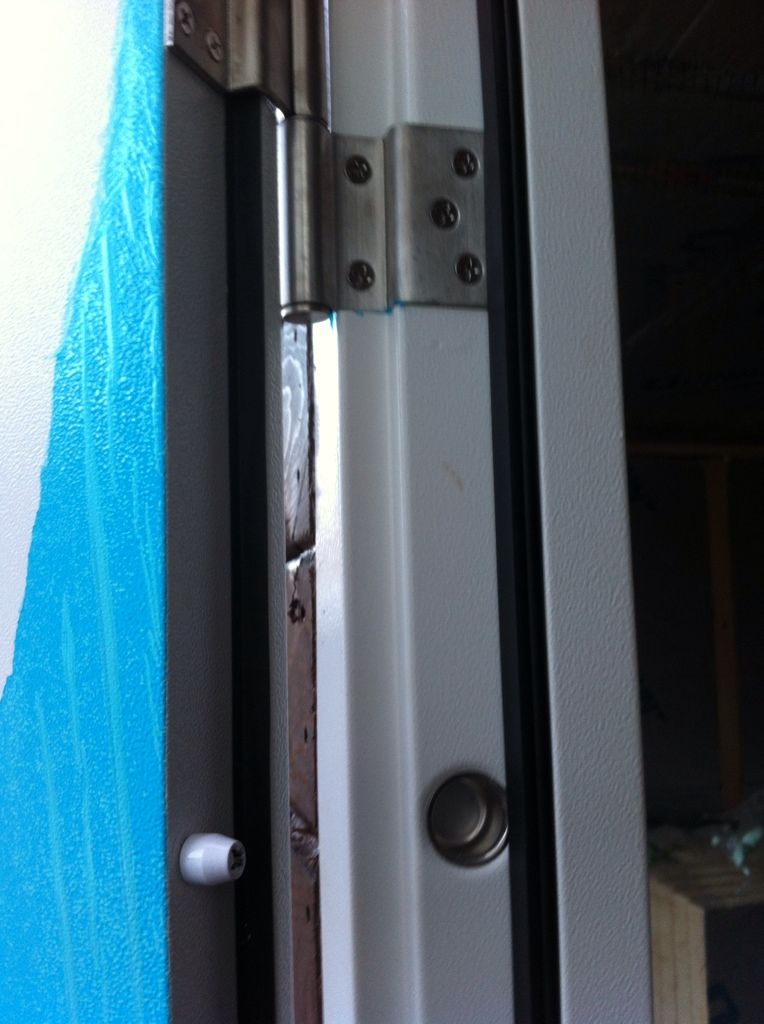 Ive got some steel bar to secure the window too.
I've spent today insulating the roof and walls today, I'm about 80% complete, still got the floor to do will get a pic tomorrow. Ill say one thing, expanding foam is the work of the devil
.
Progress for the last few days.
Got all the insulation done, 50 mm in the roof and 40mm in the sides, its great stuff the foam boards but they are a pain in the arse atvthe same time. All the joins were foil taped to form the vapour barrier.
And today managed to get 80% of the boarding up ready for the electrics.
Still got the floor to batten and insulate, hopefully get that done tomorrow.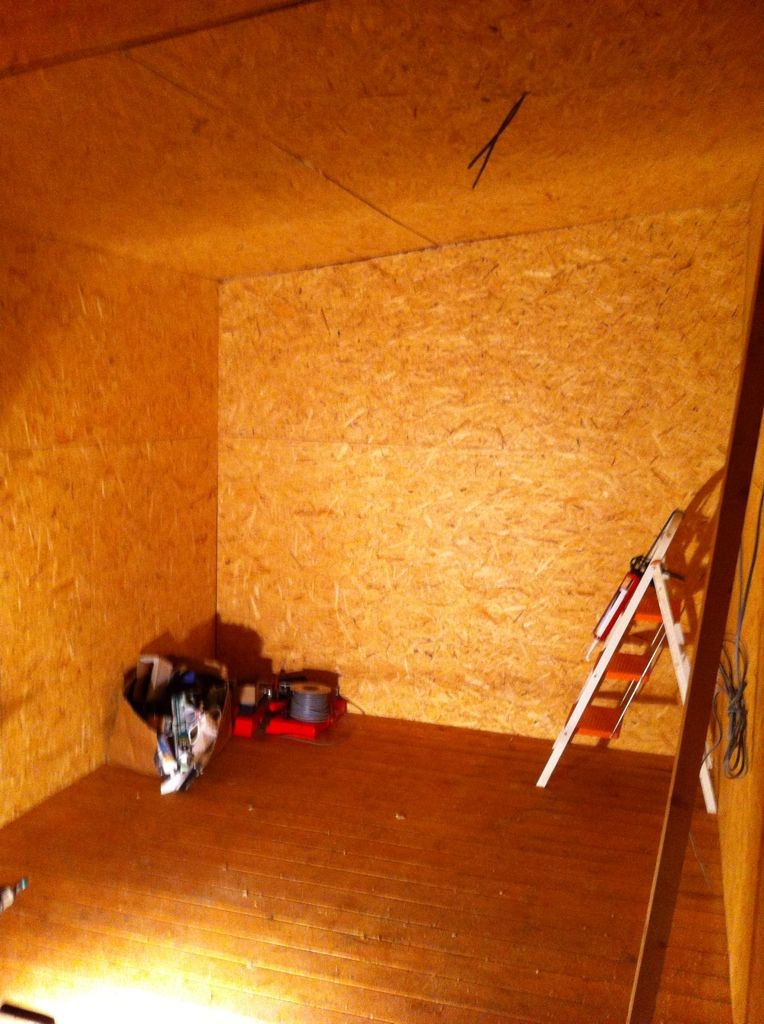 Got the floor battened and insulated today, and then got the flooring down too.
Tomorrow electrics and battoning for the cladding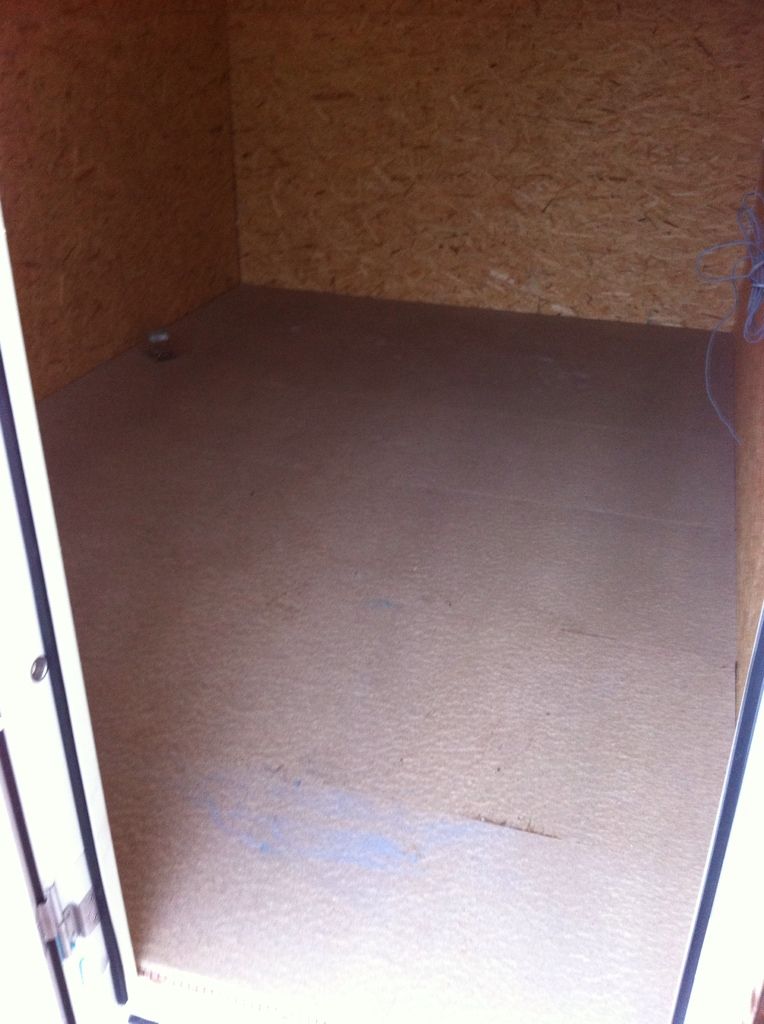 Got all the cabling and pattresses in today, 11 double sockets in total plus the lighting switches and spares also ram the alarm cable ready for the pir.
I battened one wall ready for the carcases and I also cladded the one wall that doesn't need battoning.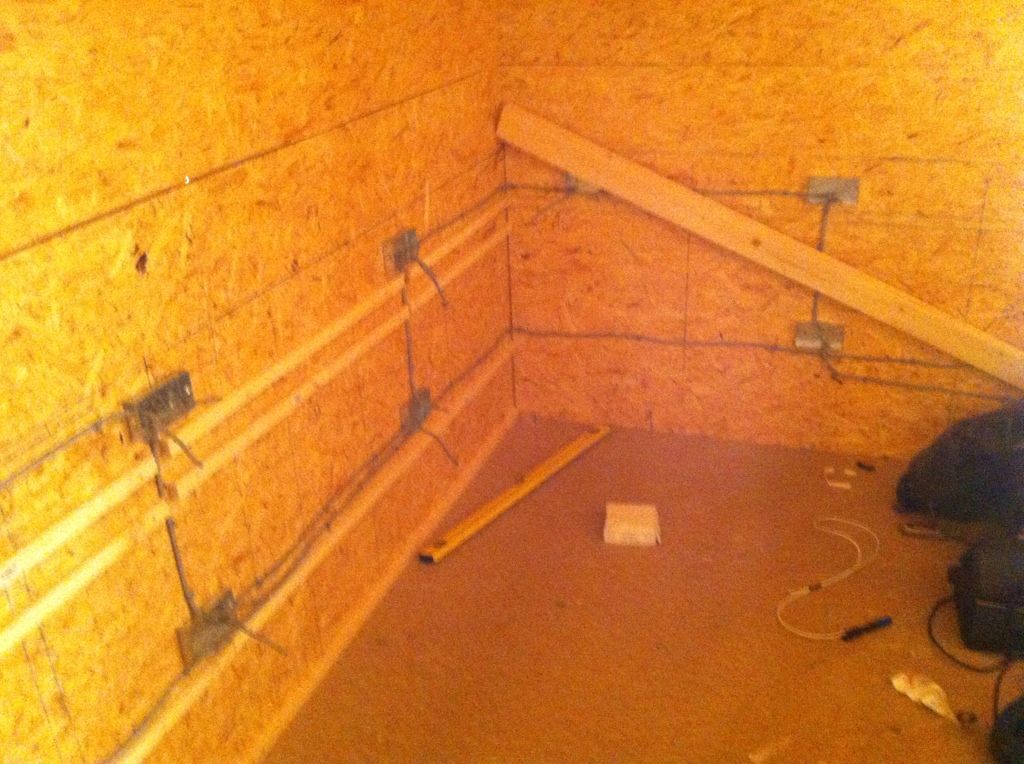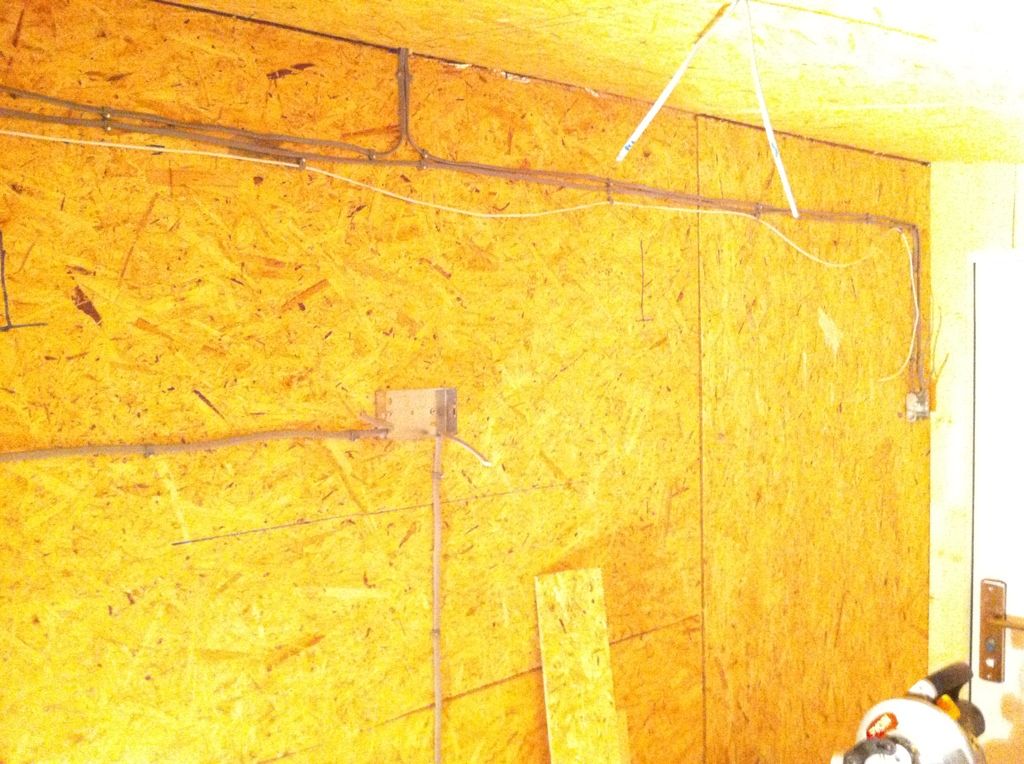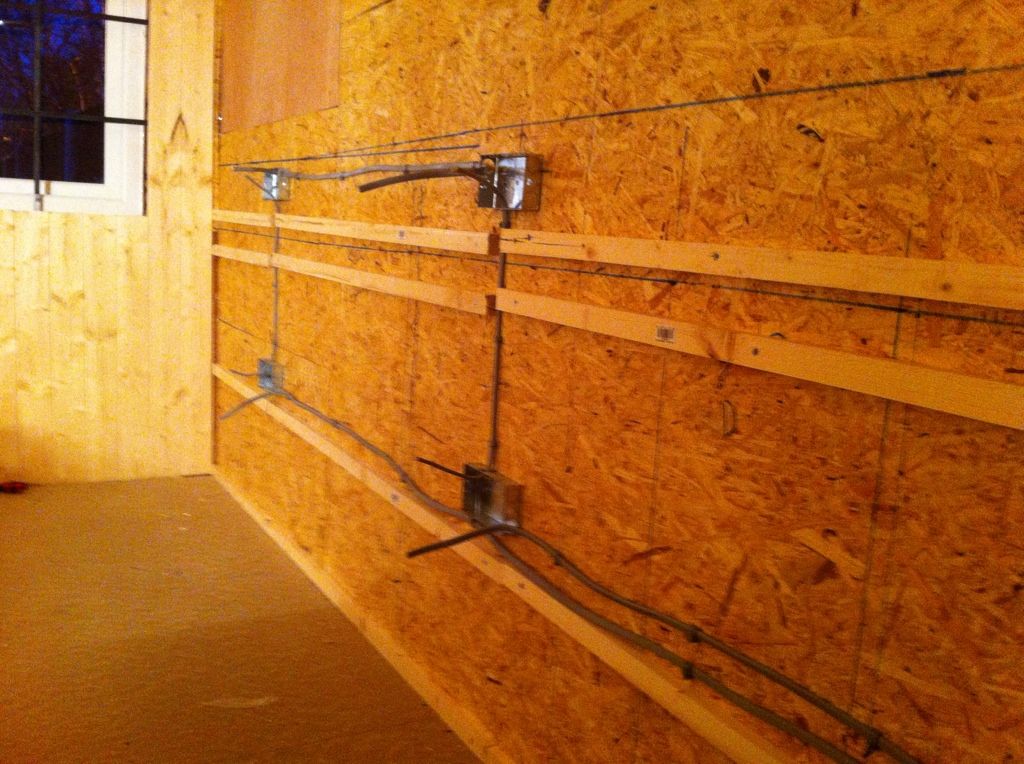 Got the hot and cold water supply in now, plus the heating pipes,they just need connecting in the house.
Got the main wall cladded as well as half the ceiling ( I ran out of cladding, will get more,tomorrow) and also got them radiator hung and connected.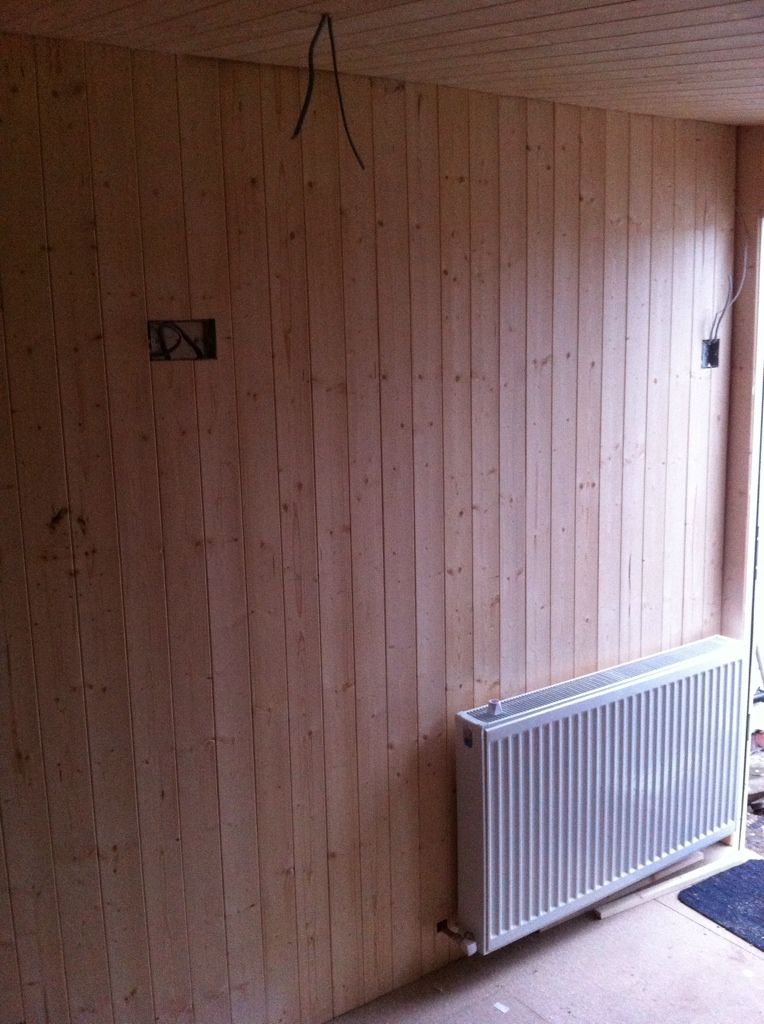 Been full if man flu the last few days so progress has slowed a little. Got the carpet in and already full of crap lol, that's an off cut on the floor btw. Ceiling cladding is also done and the drawer unit all together and screwed into place, although 4 of the handles were faulty and will have to be returned and swapped. Need to get the worktop next, great fun trying to get 3 m lengths on the van roof rack on your own. Then the electrician can come in and sort out the power.
I take a great blurry pic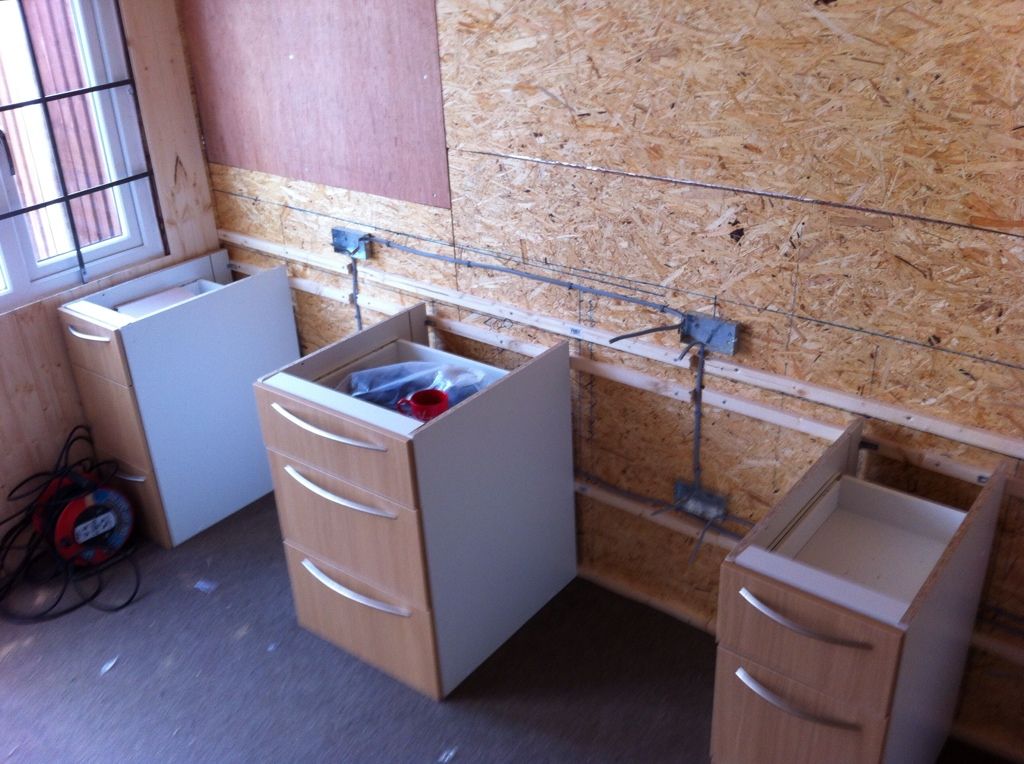 Worktops and sink in, need to move a few things about to get it how I want it though.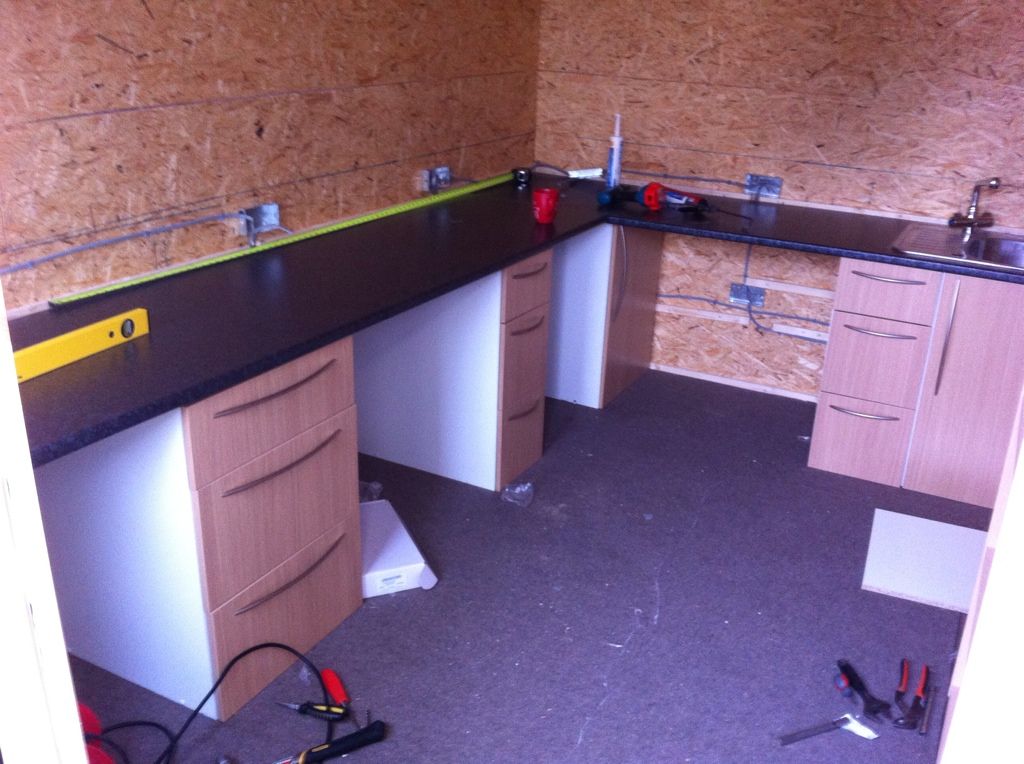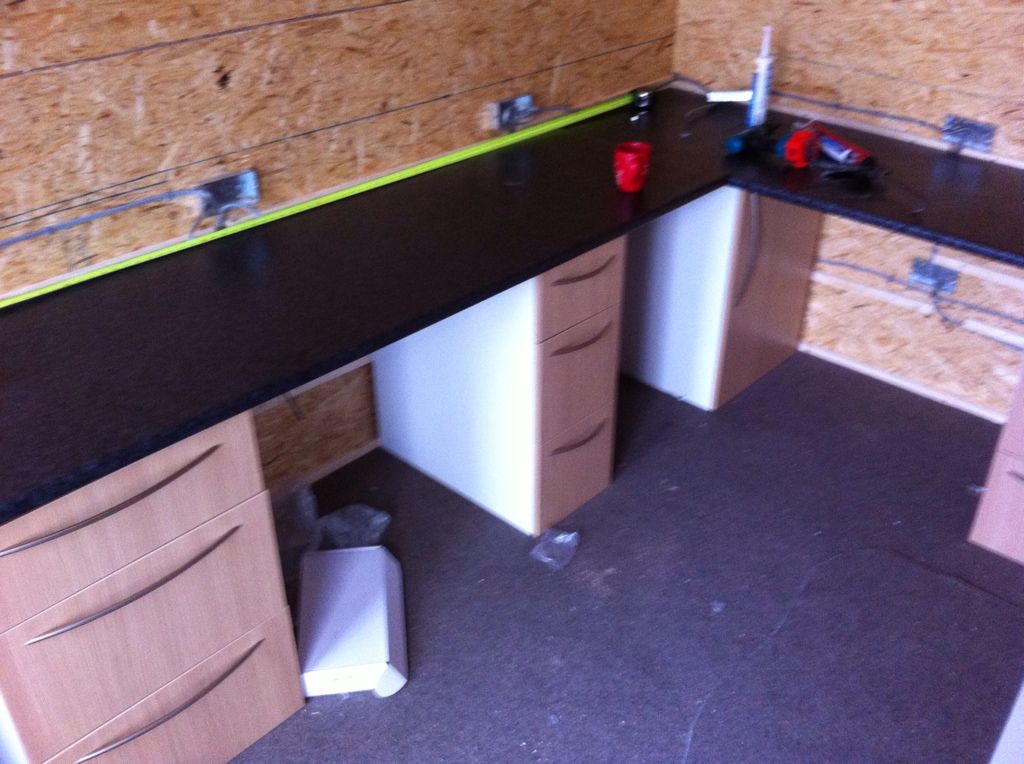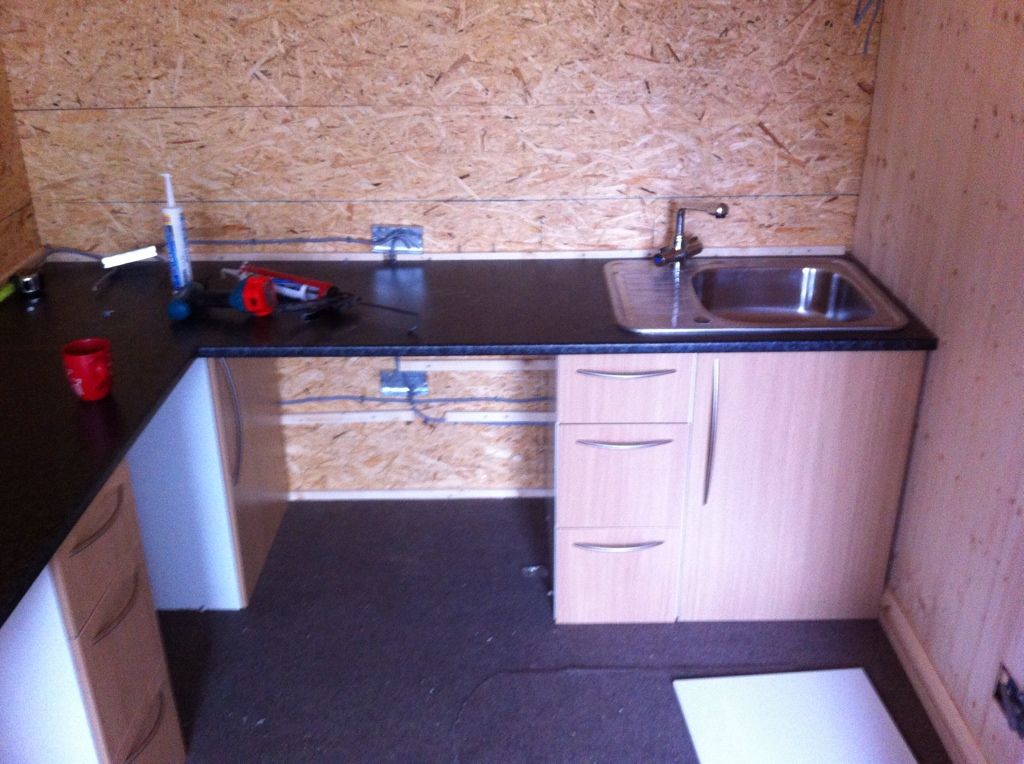 Bit more progress got the two little shelves in above the work surface, both of these have led lights underneath them to light the work surface and when mounted my paint shelves.

I also got the gaps underneath cladded as well as the ones just above the worktop, just got a couple of security lights to put up front and back of the house and I'm ready for the electrician.

Plenty of background light of the led lights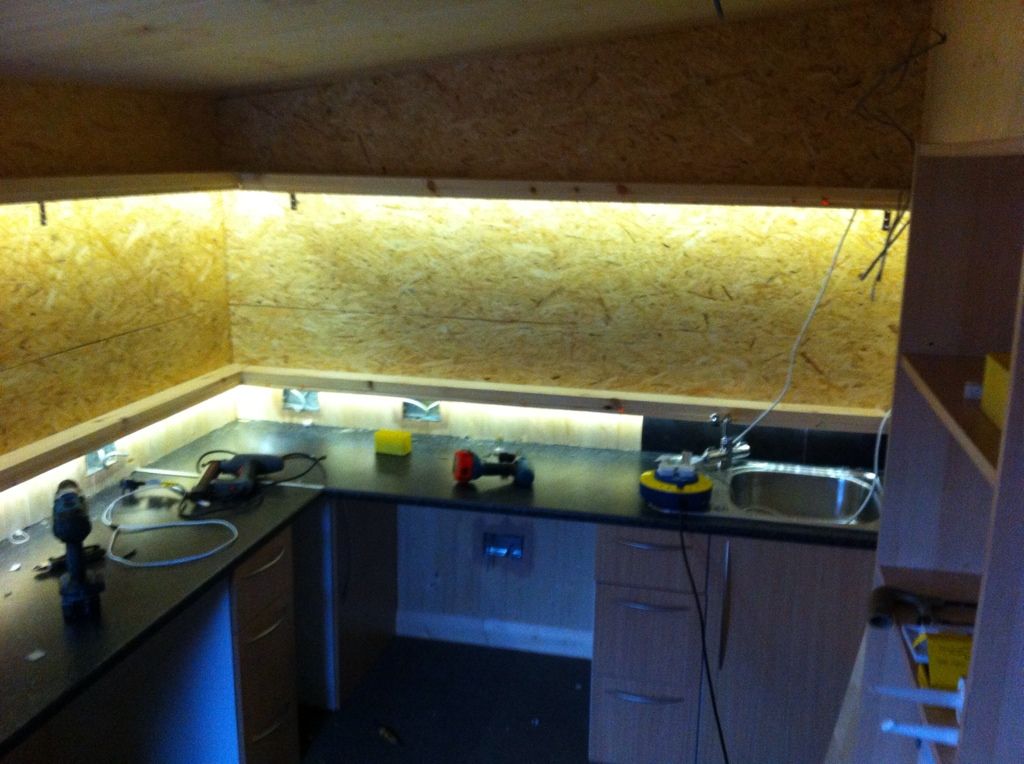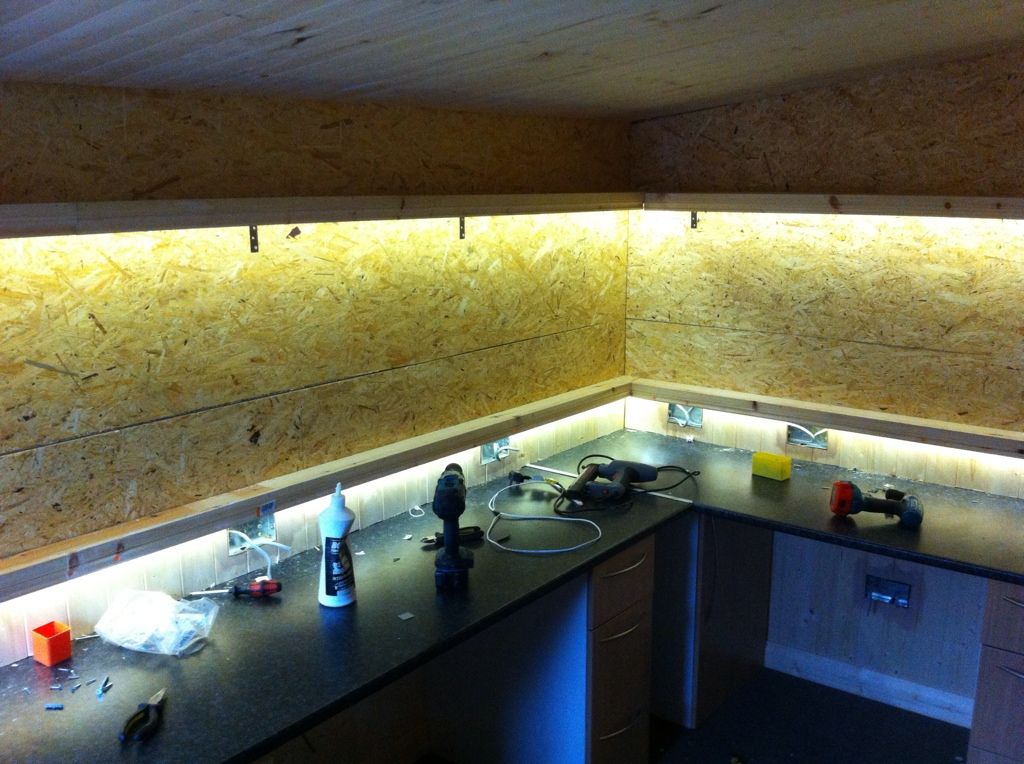 More progress today
Got my new paint/storage racks built and all the areas inbetween cladded also got 90% of the beading trim in around the corners etc the make good the cladding.
Also got the blind up and the trim around that too.
Spark is coming tomorrow so will have power in there then' no more extension leads from the house
Heating and water supply still to connect plus still got the roofing panels to put over the felt and also treat the exterior of the shed and paint inside.
Getting good at these blurry pics now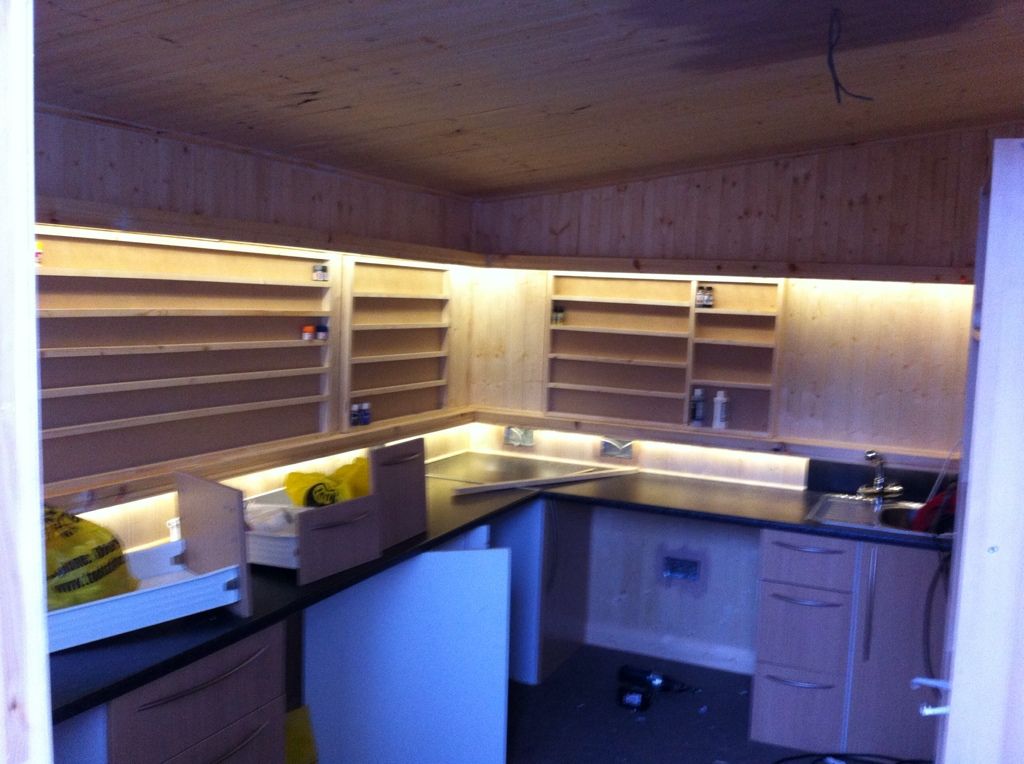 My girlfriend Hanna still needs to decide what she is doing with her wall part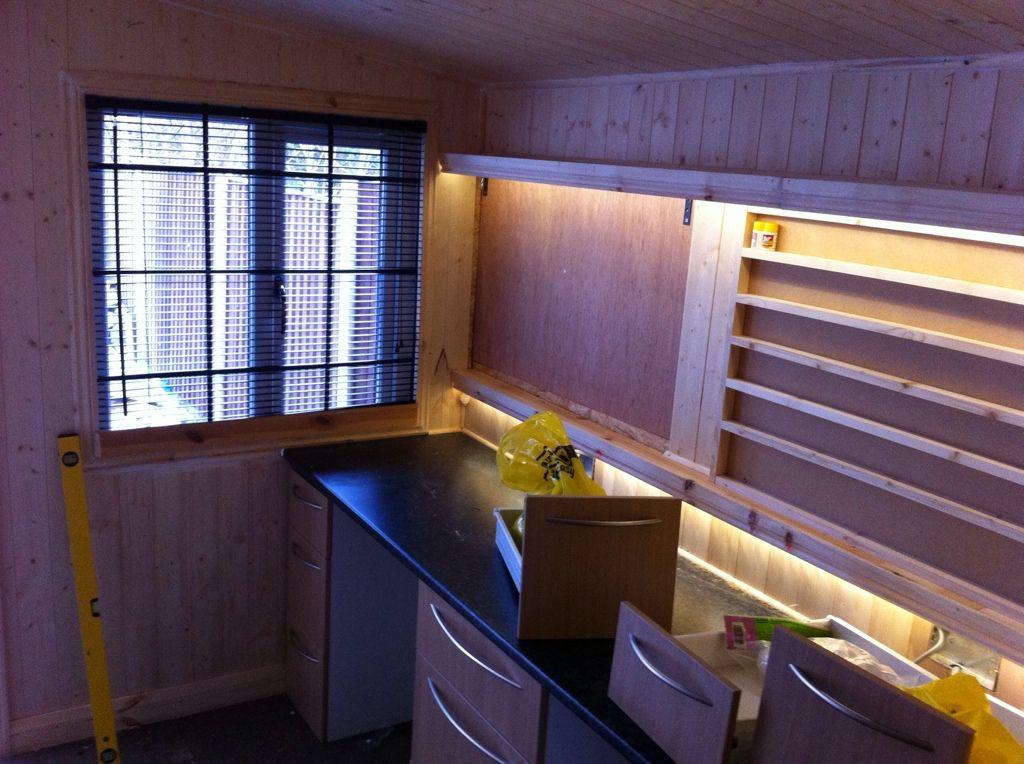 Well my its about done, still got some bits and pieces to sort out, mainly the Internet connection in theredue to the foil insulation no wifi can get in there, I even tried a wifi expander, but still no good,so today I ran a cat 5 Ethernet cable in there and will by a router for in there. I was going to have a dedicated section for working on guns, but I thought it better used elsewhere as I have plenty of workspace and work out my little toolbox anyway. As I said there's still some bits and bobs to sort out, not sure of the position of that tv/monitor yet. Ill get some more pics when its finally all done. Still got Hanna part to do yet. It's cost me a fortune to do, but I think its worth it.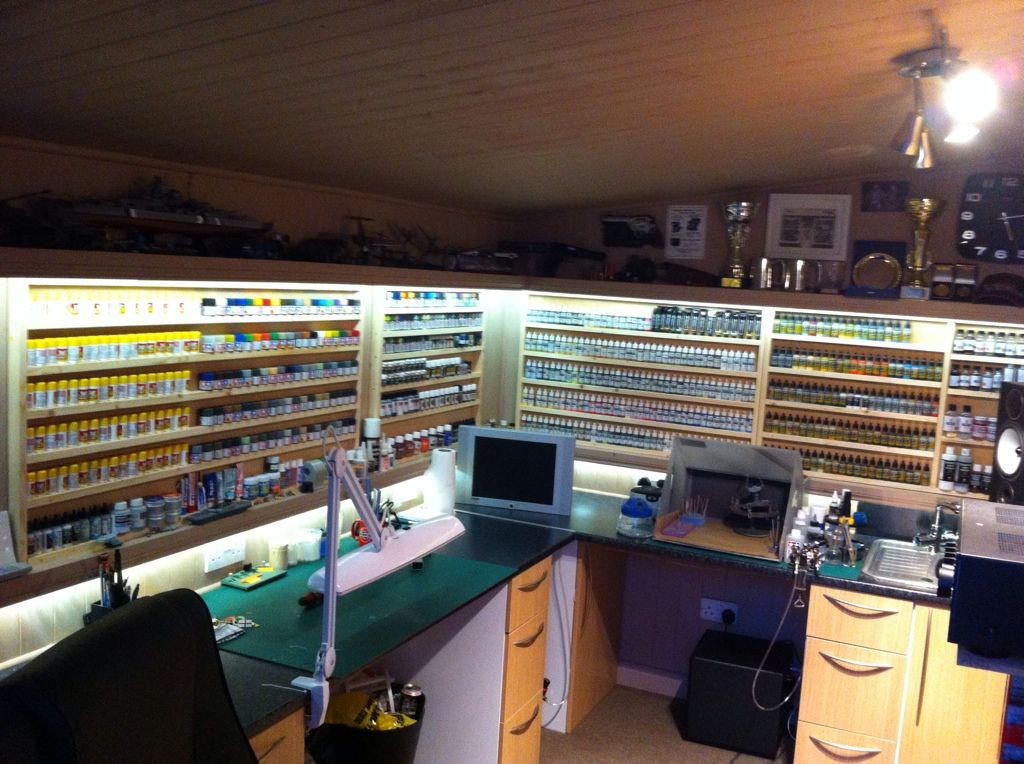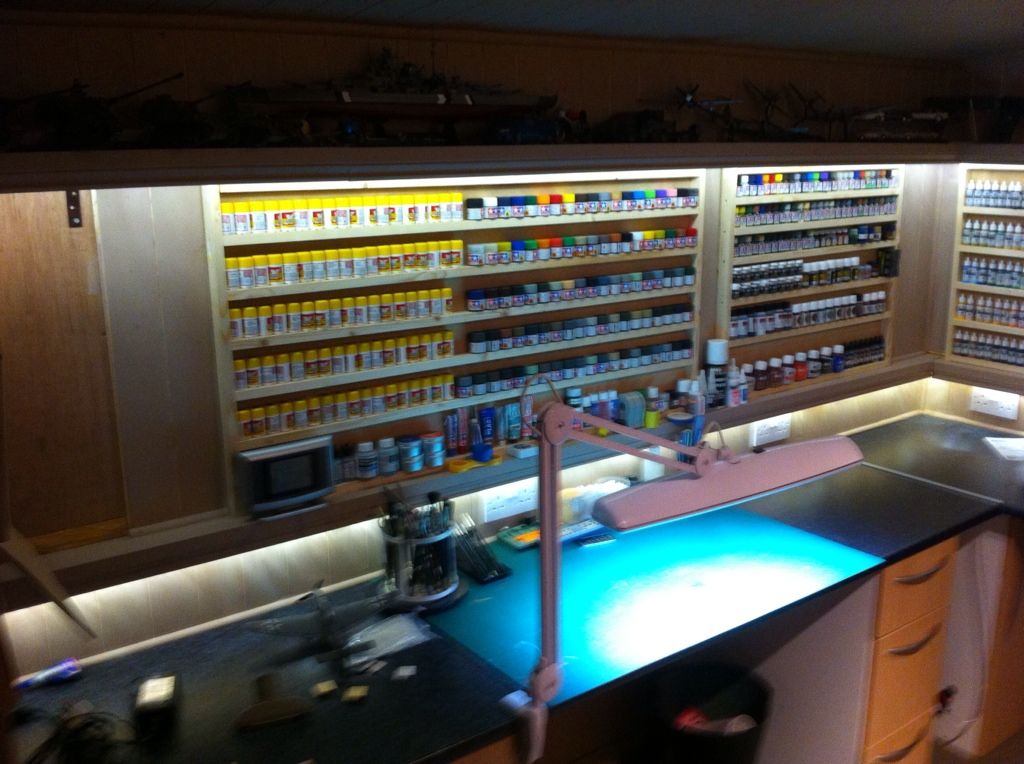 Sorted my Internet access out using a powerline kit, they use the house wiring to transmit a signal from one adapter to another, not the cheapest way of doing it but it works very well I know have a full wifi signal In the cave. I have also connected the heating up now in the house and its nice and warm in there, a week ago I decided to reduce the size of the radiator I originally instaled going from a 1000 x600mm (approx 5600 btu) to a 500x600mm (2700 btu) and I glad i did as I would have had had the windows one as it would have been far too hot in there. It's that well insulated in there that after a couple of hours the 4 bar spotlight on the ceiling starts to heat the room up. I don't think ill ever be cold in there that's for sure and hopefully it'll be cool in the summer too. I always wanted the room to look full, including the wall decor, so I've slowly been adding things as I go, mostly car/aircraft or shooting related but also with a few personal things like my grandads war medals and various other things. I've also finally got a home for the deer antlers a friend from Michigan sent me a few years back, he shot the deer from a tree stand in his back garden (think small jungle with alsorts of wildlife) with his compound bow and gave them to me as a birthday present.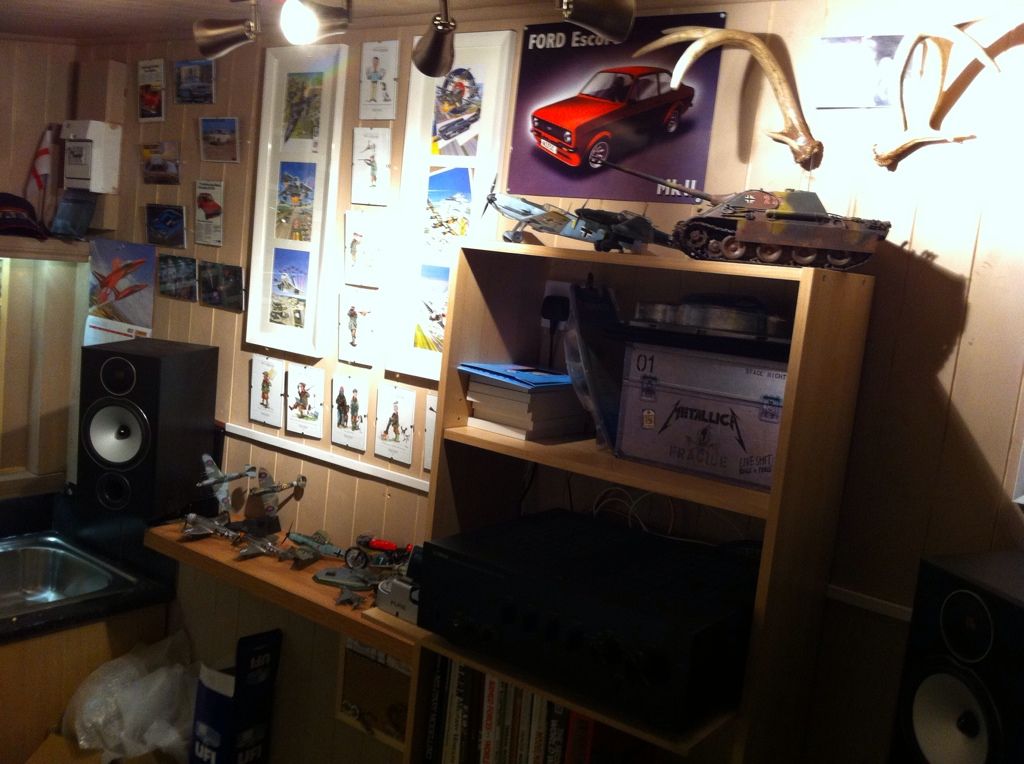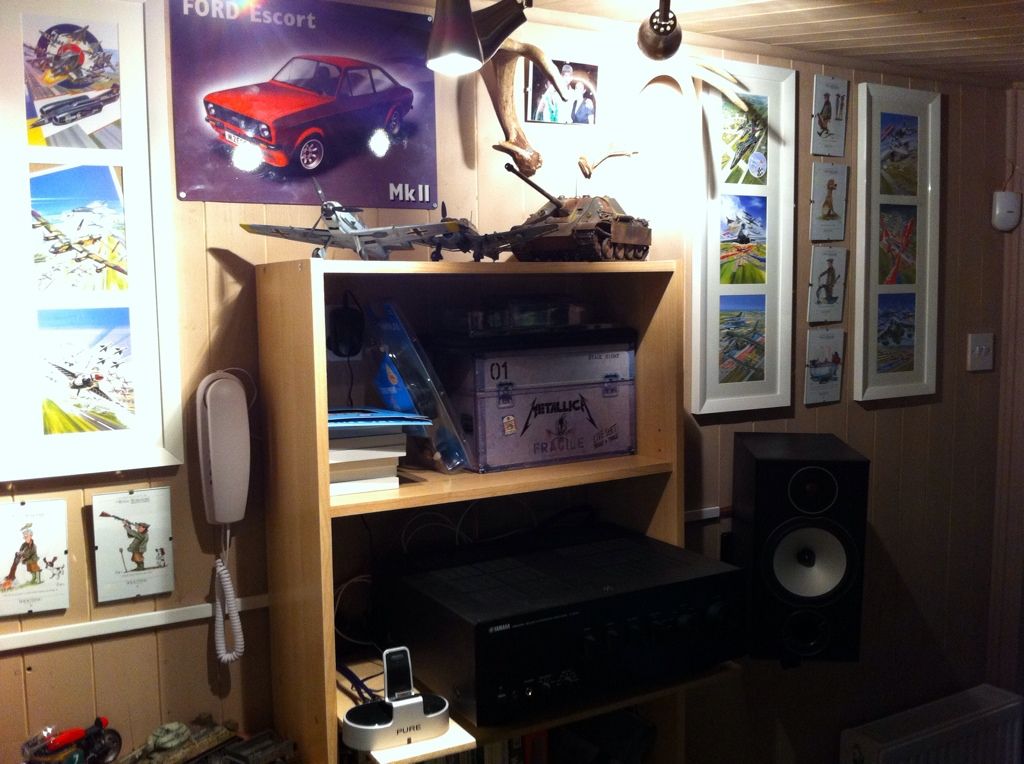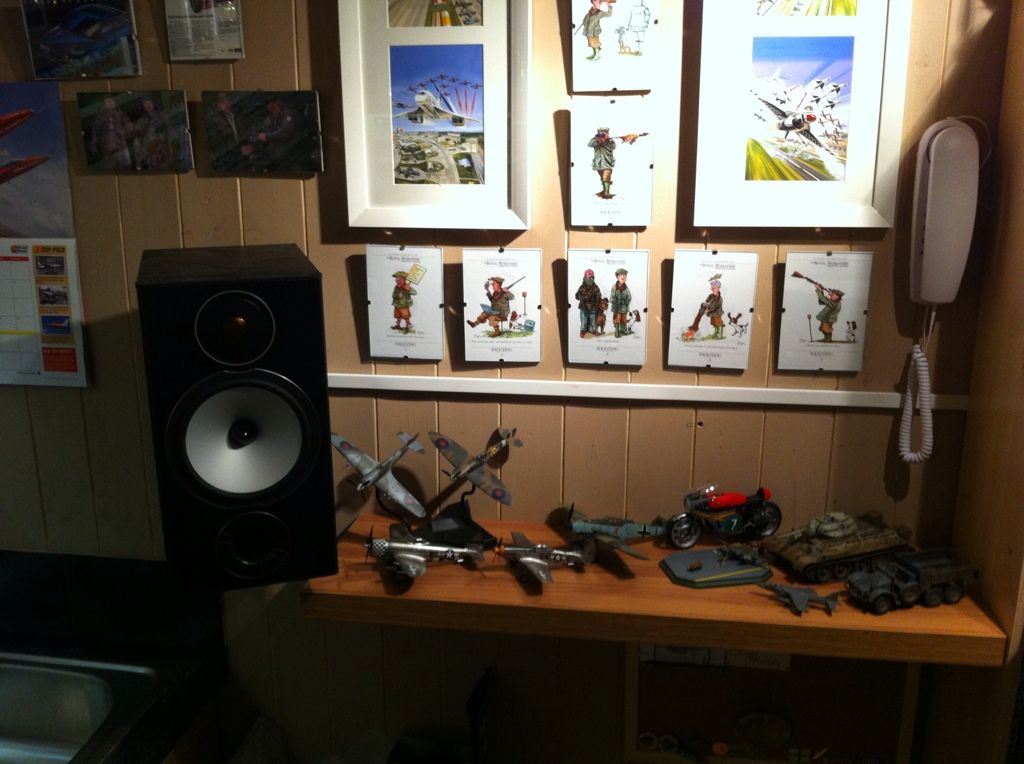 Bookshelf, which also has my new yamaha amp and iPhone dock plus one of my monitor audio BX2's speakers I've got a tuner and cd player on the way to me too, plus there's a subwoofer elsewhere in the room tucked under my spraybolth worktop, and it does sound amazing in there. Oh and at large brass shell to the right of the bookshelf is from the 4" gun off a type 23 frigate, a friend of mine was an engineer on board HMS St Alban and got me one so I polished it up.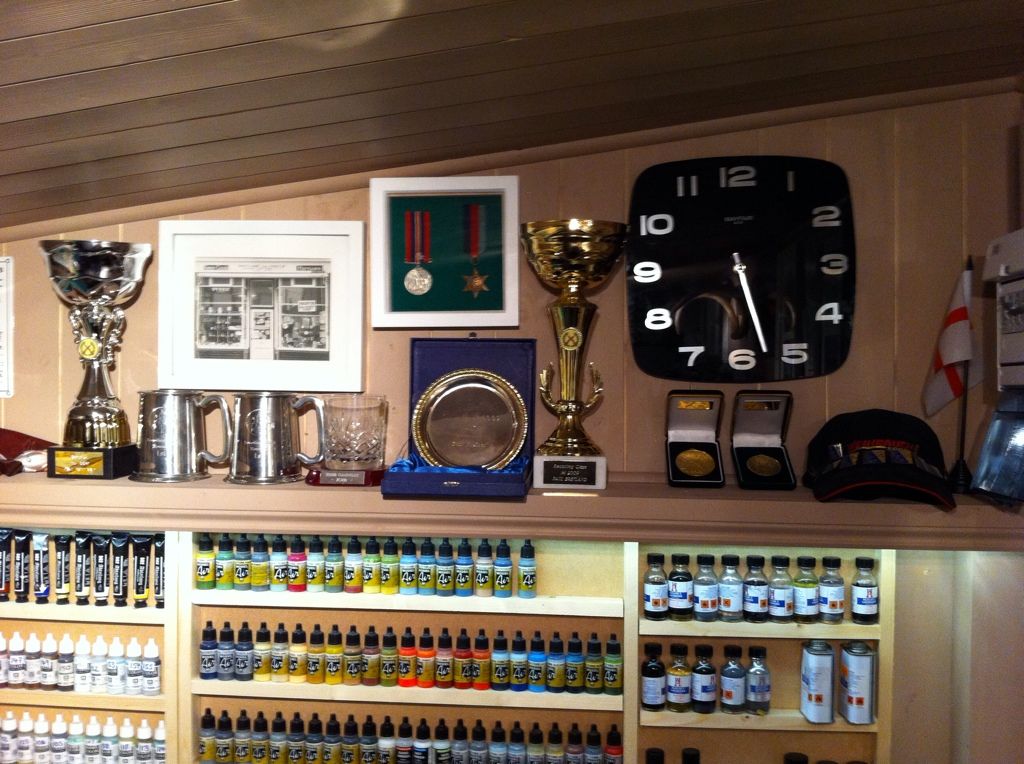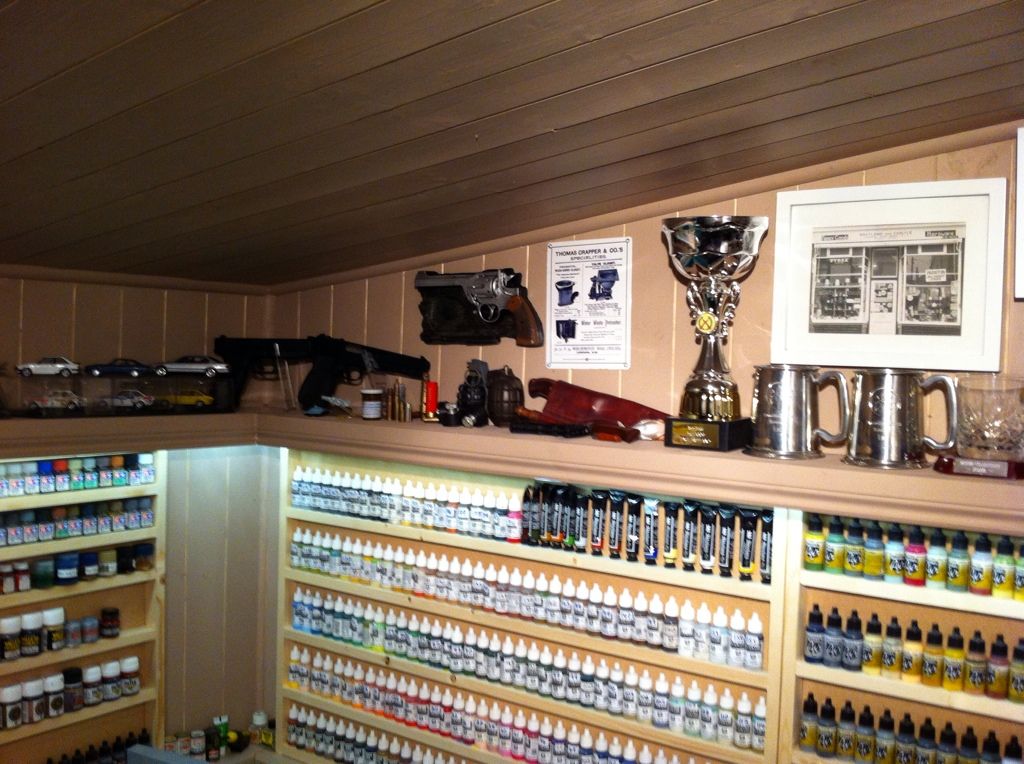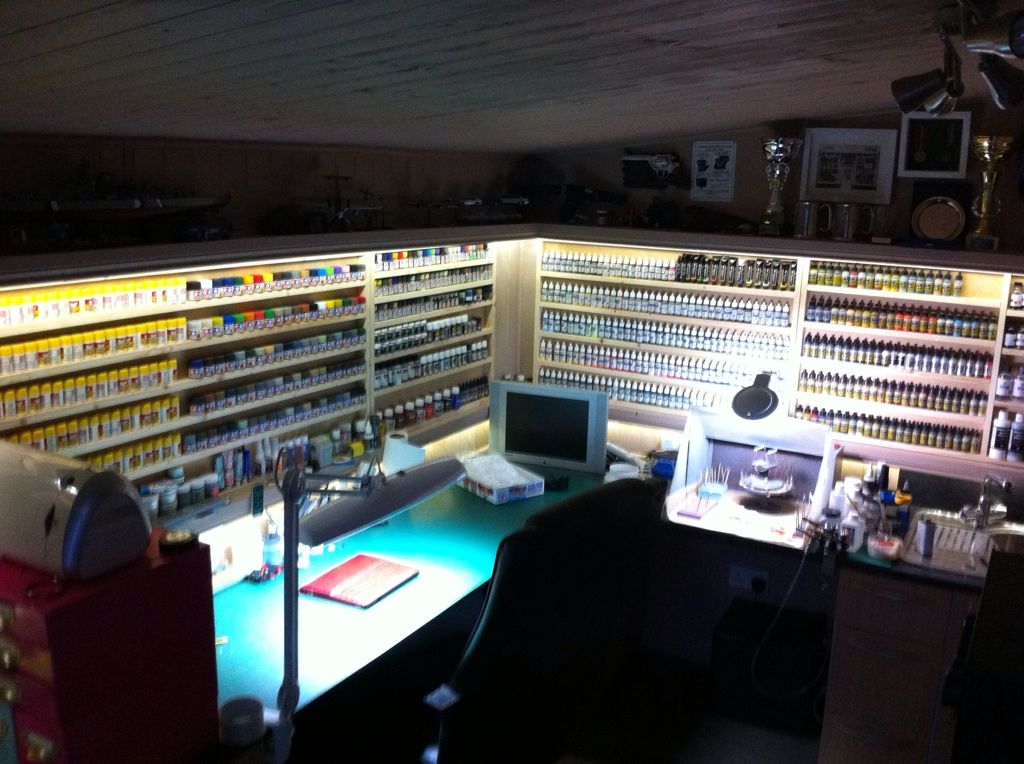 Hanna is in the process of sorting all her stuff out too, thankfully she doesn't have anywhere near the same amount of stuff I have.
Just a little update, nothing major.
Put some treated timber around the door and window and gave the workshop a good coat of solvent based treatment (non of this water based crap, I appear to have gotten more on myself that the actual shed.
Ive still got to box in those wires and pipes coming from the house I may do that tomorrow.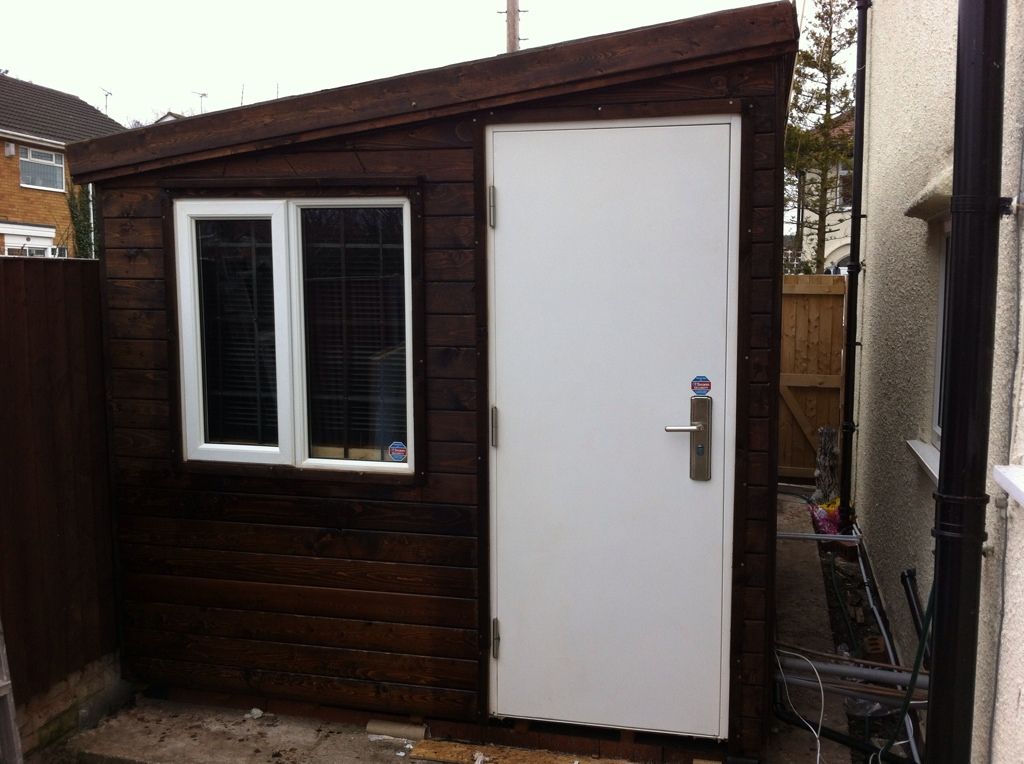 Also got my CCTV installed so I can keep an eye on the workshop as well as the car/van and my aviary. Good system cost £275 for 4 cameras a 500gig dvr and a nice little 7" LCD monitor, it can also be viewed via the internet and ill have a live feed into the workshop once the cable I need arrives. It can also be watched full screen on our living room tv so there's no getting away from it.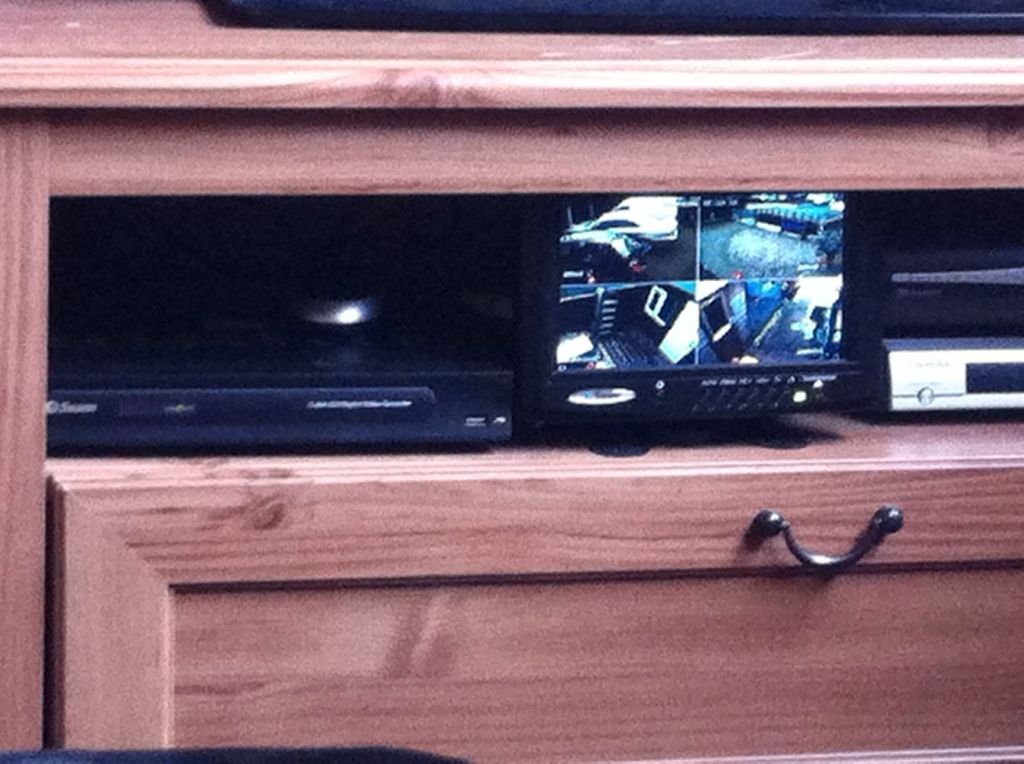 Also a few additions inside, got the airbush spray booth extractor vent sorted so it now vents outside.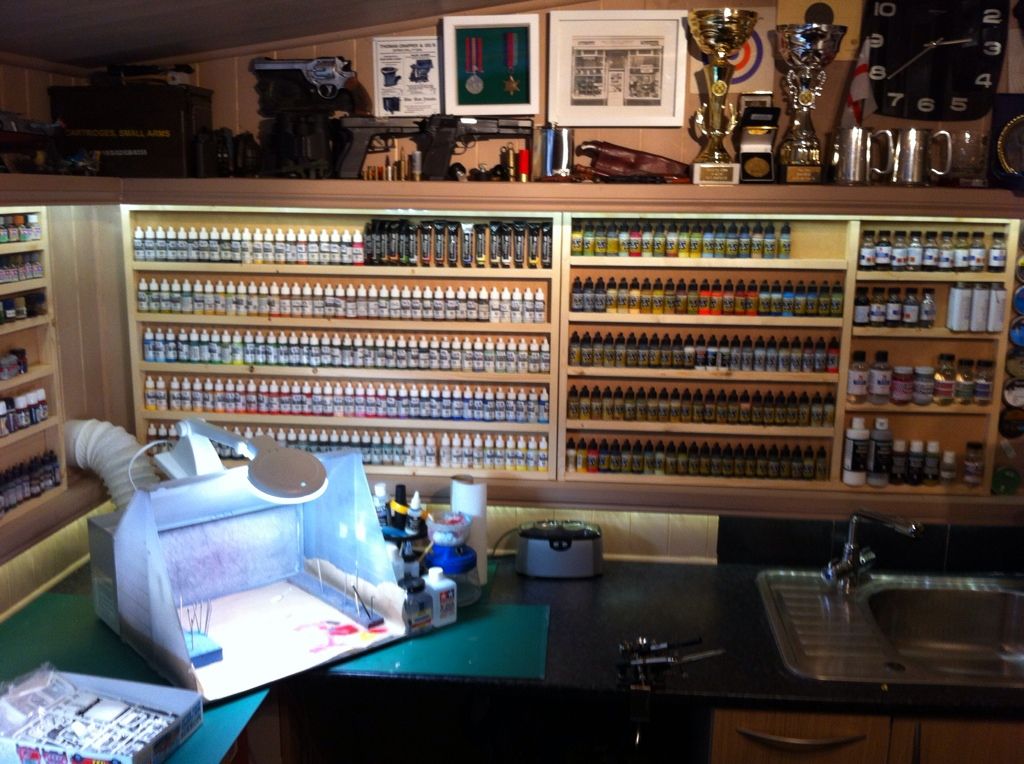 Got a bargain on the bbs a yamaha rds radio tuner and CD player both for £54 delivered and they even match my new amp. Both are like new like they have never been used.
Also got my pistols on display too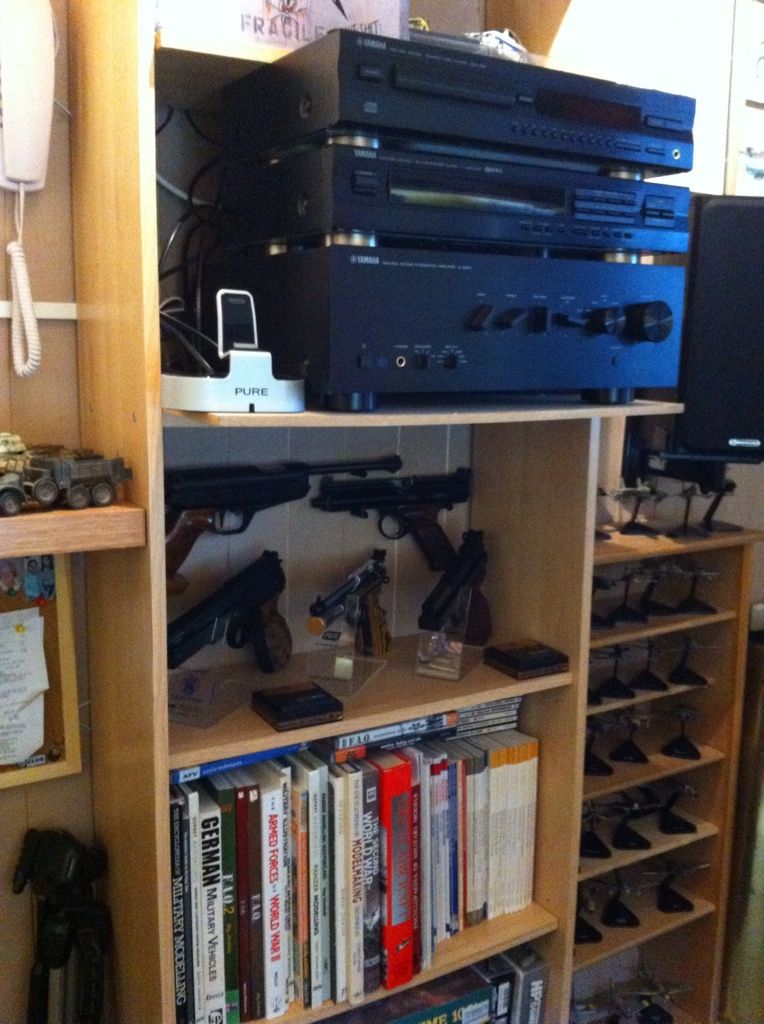 My diecast plane collection too.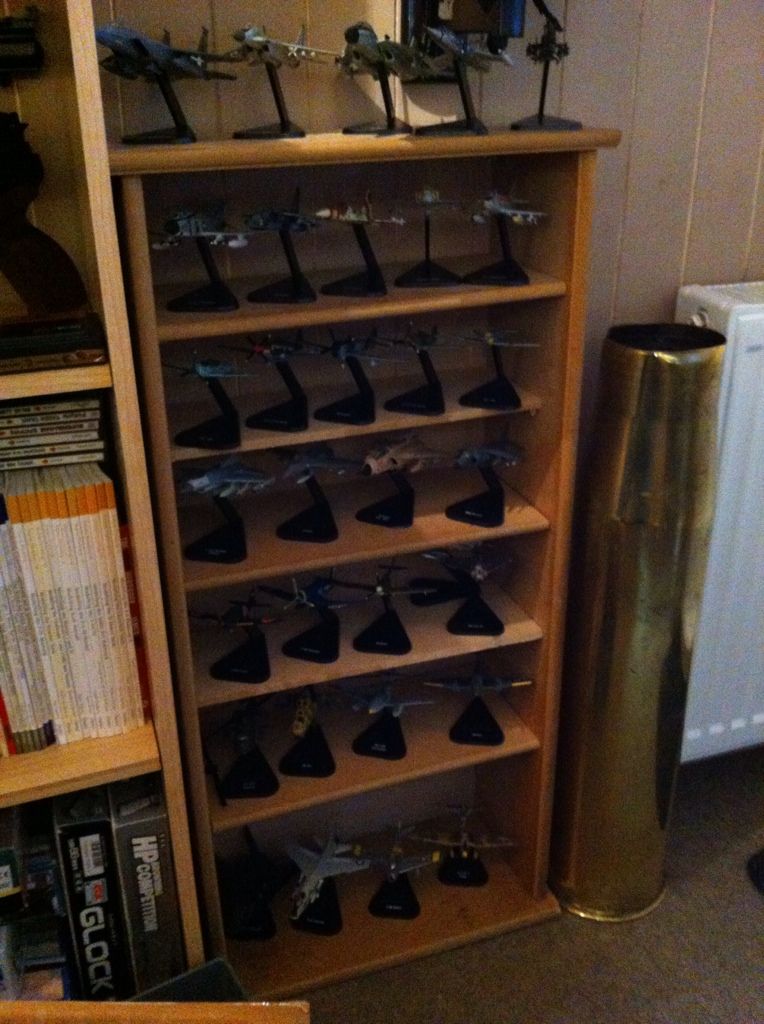 The bitumen corrugated roof panels are getting fitted on Wednesday, Ive had to get the guy back who demolished the old garage as the roof won't support gorilla sized people.
And I've still got loads to do.
Ah well that's its about finished.

I got the rest of it treated on Wednesday (had to go in the road behind us and lift the fence panels out and also got the guttering up too.
Clive (the guy who demolished the old garage) came yesterday and fitted the roof panels, it took him all day, but he fitted as I wanted as it looks spot on.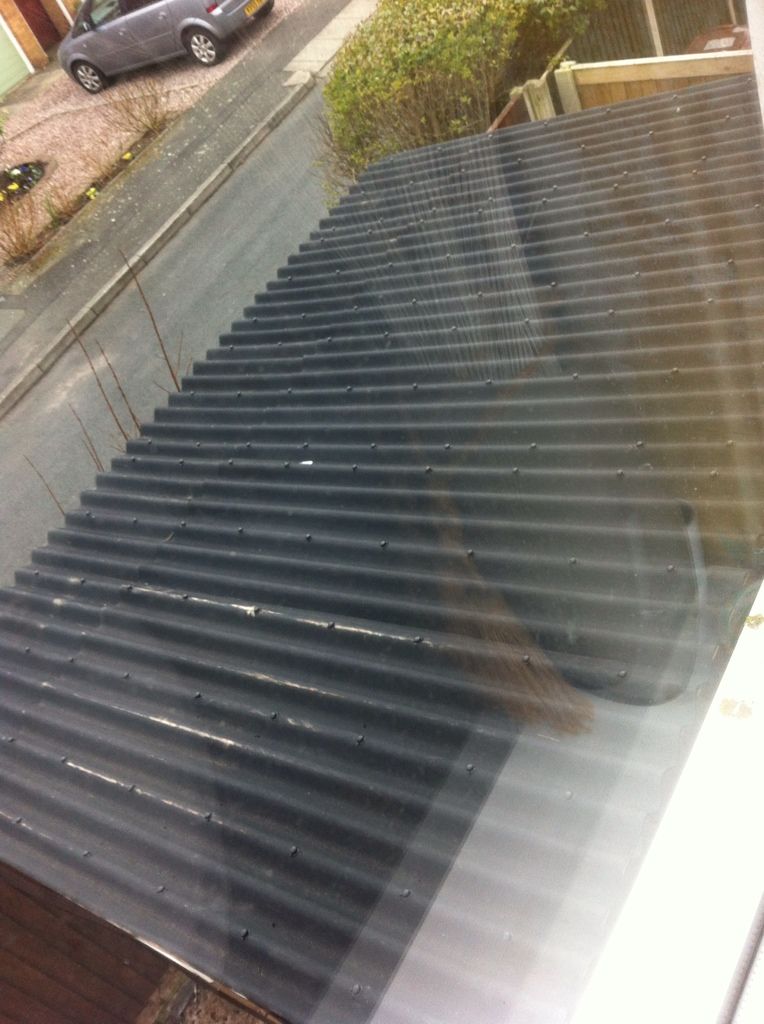 Still got a few things to sort out inside but all the major work in it is now done, took me nearly 8 weeks and cost an arm and leg.
Ill get some proper pics of the inside once its fully sorted.
Got to move my aviary next from one side of the house over to by the workshop, really not looking forward to doing that but it needs doing.
Ok my final pics for this as its finally finished.
With just the led strip lights on.
With the spotlights on too